Comparison:  Why do we have a variety of models to choose from?
We are proud to present the comparison of these innovative therapeutic models: q6000, q36, and q26. We will provide a comparison on the QEnergySpa is based on Quantum Field Science and hence exact geometry, material, and specifically chosen electronic components. This is what makes this comparison so special. Utilizing an isolation transformer-based power supply that produces no electromagnetic interference or harmonic distortions. In addition, the Isolation Transformer is tested to safely withstand 4000 Volts.
Recharge Your Cells
The QEnergySpa works through the medium of water by making available extra energy that living cells can utilize. There are a variety of different cells in the body. They all require water for hydration AND energy to perform at their optimum levels. With the depletion of either water OR energy, the cells are deprived and poor health can result. This is why the QEnergySpa is so beneficial. A footbath session keeps your cells healthy and energized. Users report that regular footbath sessions have improved their health and wellness. And a QEnergySpa footbath session doesn't take a lot of time either, just 35 minutes every second or third day.
Let's walk through the comparison details below.
This information is fairly simple to understand. The varieties of options and features of each model are available below. This is a unique single investment that the whole family can use, including your pets and plants. The BEFE QEnergySpa is designed and built to meet the International Electrical Safety Standard IEC60601.1. It is safe. The QEnergySpa has been used by many all over the world since 1997.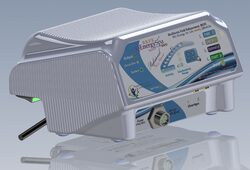 Q Energy Spa q6000 Pro QEnergySpa
– Built-in Automatic Timer
– Auto Power Level Select
– Automated System Diagnostics
– Superior Electrical Signal Clarity
Now being built.

Pre-order special $2897.00
q36 Q Energy Spa BEFEq36 Home User Model
– Improved Electrical Signal Clarity
– Manual Power Level Select
– Separate timer
q26 Personal Use BEFE QEnergySpa Series
– Manual Power Level Select
– Separate timer
You Can…
    Look Younger
    Feel Better
    Have Better Concentration
    Increase Your Productivity
    Reduce Your Anxiety and Stresses
    Elevate Your Energy Levels
    Have a Relaxed and Happier Life, Home, and Workplace
Please contact us with any questions about the comparison. First of all, Q2Spa.net has sold The ORIGINAL BEFE / Q Energy Spa Products online since 2002. Are you uncertain about what you need to keep your Orb, cable, or Q Machine running smoothly? No problem! We have all the parts you need to replenish your BEFE Q Energy Spa on our PARTS page here.
We have most items in stock.
In addition, the most requested items include Cables, replacement rings, and tracks. We also handle all repairs both warranty and service on all models. We have parts to repair any age of machine from the original BEFE sold in 1997 to the current models available today.
_______________________________
Q2Spa.com | Genuine QEnergySpa Parts | QEnergySpa Footbath | Orb Ring and Track Sets
Orbs and Cables | Array Cables | Fuses | Display all QEnergySpa Products Look here.
You may always contact us with any questions or part requests. We are here to help you set up your session. Nothing looks and performs like a genuine QEnergySpa Footbath. For that reason, Pros insist on them. Do you need spare parts for your QEnergySpa Footbath? Does your orb or array have a broken or missing part also? Then you have found the right place. Q2Spa.com Online Since 2002
Genuine QEnergySpa Parts| Orbs and Cables | Fuses| Array Parts | Orb Ring and Track Sets
First of all, we have QEnergySpa Parts in stock. The most asked for parts include cables, fuses, orbs, and ring and track sets.
Even more, see our newest QEnergySpa Pro q6000 online, Go here.
The statements on this site have not been evaluated by the FDA.
These products are not intended to treat, cure, or prevent any disease.