QEnergySpa international Voltage Chart
Are you ordering a QEnergySpa to be used outside of North America? If so, please use the handy International Voltage Chart below to verify the different voltage system and outlet connection available in your country.  We can accommodate you with any of the plugs or sockets listed.

Please note your choice of plug: Socket types: A-Q 
Add to your order form for orders delivered outside of North America.
QEnergySpa International Voltage Chart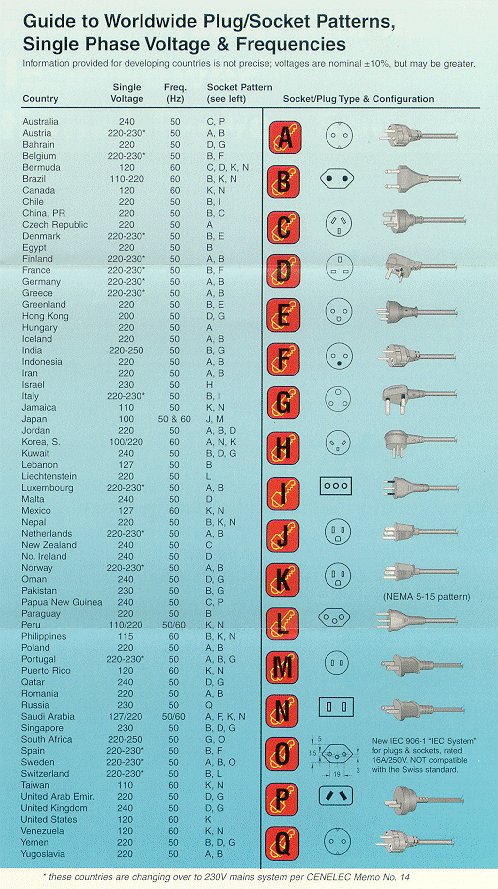 ---
The Q Energy Spa is the latest in home based systems developed by Q-Tech Laboratories as an aid for relaxation and well-being. It was created to realign, balance, and enhance the bioenergetic levels in the water that is then used by the cells of all living things. The Experience increases vitality, clarity, and an overall sense of well being. By using the Q Energy Spa regularly, you (and your family) can increase your energy levels whenever needed.
Healthy or not; the benefits of the QEnergySpa can be
an advantage to all. Call Debbie: 303-782-4841
_______________________________
Do you need spare parts for your QEnergySpa?
Q2Spa.com | Genuine QEnergySpa Parts | QEnergySpa Footbath | Orb Ring and Track Sets
Orbs and Cables | Array Cables | Fuses | QEnergySpa, BEFE Consumables | Support
Does your QEnergySpa have a broken or missing part also? Then you have found the right place. First of all, we have all parts to fit ALL BEFE and QEnergySpa models. In addition, the most asked for parts include replacement rings and tracks, cables, orb parts, orb shells, and orb buttons. We also offer all services including warranty and repair. Q2Spa.com also offers Certified Used Models to meet almost every budget. You may see all the Q2Spa.com used models, Go here. Lastly, what is new at Q2Spa.com? Check out our Blog, look here.
Q2Spa| Genuine QEnergySpa Parts | Foot Bath Tips | Veggie Trials | BEFE Parts
The statements on this site have not been evaluated by the FDA.
These products are not intended to treat, diagnose, cure, or prevent any disease.