International Voltage Chart
Are you ordering a QEnergySpa to be used outside of North America? If so, please use the handy International Voltage Chart below to verify the different voltage systems and outlet connections including Europe voltage and frequency available in your country.  We can accommodate you with any of the plugs or sockets listed. The international voltage differs within countries and the frequency (cycles per second). Most electrical products are not affected by the cycle change because they internally convert AC voltage to DC voltage and many devices support both cycles.
Countries use either 60 Hz (USA) or 50 Hz (UK).
The difference in frequency may cause a motorized 60 Hz device to operate slower on 50 Hz. We strive to provide the proper voltage plug for your region. Please use the International Voltage Chart below to choose your region's proper plug.

Please note your choice of plug: Socket types: A-Q 
Add to your order form for orders delivered outside North America.
International Voltage Chart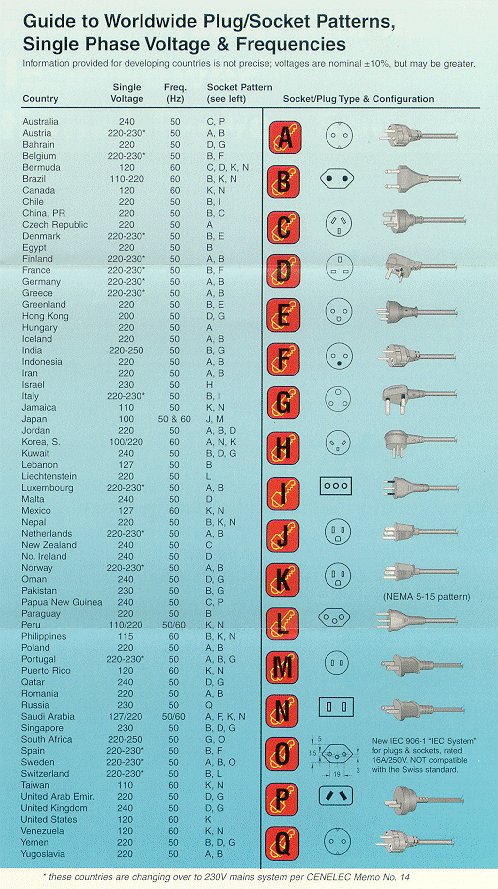 ---
The Q Energy Spa is the latest home-based system developed by Q-Tech Laboratories to aid relaxation and well-being. It was created to realign, balance, and enhance the bioenergetic levels in the water that is then used by the cells of all living things. The Experience increases vitality, clarity, and an overall sense of well-being. By using the Q Energy Spa regularly, you (and your family) can increase your energy levels whenever needed.
The benefits speak for themselves…
Take your understanding of detoxification to the next level!
Learn from the experts.
Over 50 years of combined experience.
New upgrades are continually being added.
Healthy or not; the benefits of the QEnergySpa can be
an advantage to all. Call Debbie: 319-208-1929
---
Genuine QEnergySpa Parts | QEnergySpa Footbath
Orb Ring and Track Sets | How to "Q"
Orbs and Cables | Array Cables | Fuses
Display all QEnergySpa Products Look here.
You may always contact us with any questions or part requests. We are here to help you set up your session. Nothing looks and performs like a genuine QEnergySpa Footbath. For that reason, Pros insist on them. Do you need spare parts for your QEnergySpa Footbath? Does your orb or array have a broken or missing part also? Then you have found the right place. Q2Spa.com Online Since 2002
Genuine QEnergySpa Parts | Orbs and Cables
Fuses | Array Parts | Orb Ring and Track Sets
Solid, untreated, unvarnished copper tubs

The statements on this site have not been evaluated by the FDA.
These products are not intended to treat, cure, or prevent any disease.