Description
Accessory Pack for Certified Used Machines
Q2Spa | Genuine QEnergySpa Footbath
Accessory Pack for Used Machines | Item # AP1
Above all, The QEnergySpa devices are as visual as the Bio-Electric Field Enhancement unit. Display all QEnergySpa Products online. Start Here. Having the best for you and your family is about being surrounded by all things healthy, natural, and non-toxic. We use the QEnergySpa to enhance our immune system. Our world is overrun with toxins. Nothing feels like a QEnergySpa session. Insist on them. Please contact us with any questions.
Accessory Pack

This accessory pack includes all the "accessories" that you need to get started using your Certified Used Machine. When you buy a used machine, only the machine is included in the sale. Once you begin using your QEnergySpa BEFE, you will require consumables. See more details below.
Accessory Pack includes:
User Guide / Manual
FOUR (4) Replacement Rings & Tracks (Orb or Array Tracks – let me know)
(20 pack) of Fuses (10) 4-amp fuses and (10) 2-amp fuses
ORB Ring and Track 4 Pack Maintenance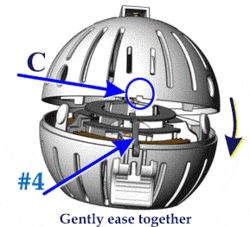 Each set of plates will last anywhere between 8 to 100 sessions depending on your ORB model and your water quality. This is the common maintenance for the orb. Stock up with plenty! Are you uncertain about what you need to keep your Orb, cable, or Q Machine running smoothly? No problem! We have all the parts you need to replenish your BEFE Q Energy Spa on our PARTS page here. Replace the Rings and Track when visibly pitted and or worn
How do you know when is the best time to replace the rings and tracks?
CLICK HERE to see an example of when is the best time to replace. We are available to help you set up your QEnergySpa almost every day. Nothing works better and performs like the Original QEnergySpa. For that reason, insist on it ONLY. See all of our QEnergySpa products. Go here.
Fuses: 2-amp and 4-amp
Please be certain to look at your 2-amp or 4-amp fuse and confirm the amperage. Placing the wrong fuse in the fuse slot can really cause problems. The fuses are an inexpensive fix for a minor problem you may have with the QEnergySpa. This is one of the cheapest fixes, and many times the minor operation problem you may have. Fuses are the most cost-effective way to manage voltage in your QEnergySpa. Be sure to keep fuses in your bag just in case you blow a fuse. Are you still uncertain about the fuse? Review our Troubleshooting Page here.
---
Q2Spa.com | Genuine QEnergySpa Parts | QEnergySpa Footbath
 Orb Ring and Track Sets | Orbs and Cables | Array Cables | Fuses 
Display all QEnergySpa Products Look here.
You may always contact us with any questions or part requests. We are here to help you set up your session. Nothing looks and performs like a genuine QEnergySpa Footbath. For that reason, Pros insist on them. Do you need spare parts for your QEnergySpa Footbath? Does your orb or array have a broken or missing part also? Then you have found the right place. Q2Spa.com Online Since 2002
QEnergySpa Parts| Orbs and Cables | How to "Q"

Fuses| Array Parts | Orb Ring and Track Sets
We have QEnergySpa Parts in stock.
Solid, untreated, unvarnished copper tubs – which have the potential 10% to 30% increase in efficiency!
The most asked for parts include cables, fuses, orbs, and ring and track sets.
Service Parts for QEnergySpa, orbs, arrays | User Guides and Manuals
Even more, see our newest QEnergySpa Pro q6000 online, Go here.
The statements on this site have not been evaluated by the FDA.
These products are not intended to treat, cure, or prevent any disease.