Eggplant Extension on Life Span
Eggplant Extension Longevity Trial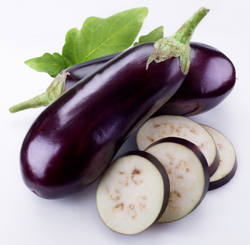 Eggplant Extension Life Span Intro
Objective
Eggplant Extension Life Span to conduct a longevity experiment in order to show the effects of supplying additional Bio-Energy to a vegetable. This will be done using the patented QEnergySpa, BEFE from Q the Experience.
Hypothesis
It is theorized that increasing the Bio-Energy content in a vegetable will have the effect of prolonging the life span (use-by date).
Eggplant Extension Materials
1 x 4105 QEnergySpa, BEFE
2 x eggplant
1 x container to charge water and fruit
2 x trays or plates (Dated & ID Charged, Uncharged)
Eggplant Extension Life Span Procedure
One eggplant will be placed into a container of water with an Orb connected to a 4105 QEnergySpa, BEFE, and charged for a period of 35 minutes. After the charging session, the vegetable will be placed on a plate. The second Eggplant will have no treatment. No further treatment of this vegetable will occur and as little handling as possible will be maintained. The vegetable will be photographed each day and any observations recorded. If possible the trials will be left long enough to harvest the seeds so they can be used to research the effect or changes to the next generation in a future trial.
Eggplant Extension Expectations
It is expected that the vegetable that has been charged with Bio-energy using a 4105 QEnergySpa will have a longer shelf life compared to the vegetable that has not been charged.
Eggplant Extension Life Span Trial
The trial commenced: on April 19, 2004
Charging Eggplant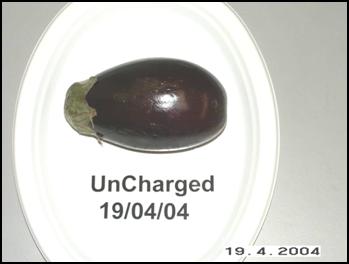 ---
April 20, 2004
---
April 21, 2004
The skin on the uncharged vegetable is beginning to wither
---
April 22, 2004 (Day # 3)

---
April 23, 2004 (Day #4)
The uncharged vegetable is beginning to soften whilst the charged vegetable is still firm.
---
April 27, 2004 (Day #8)
The uncharged vegetable is showing signs of deterioration; the surface of the vegetable is withering
and the vegetable is becoming visibly smaller. The charged vegetable does not appear to have changed.
---
April 28, 2004
---
April 29, 2004
---
April 30, 2004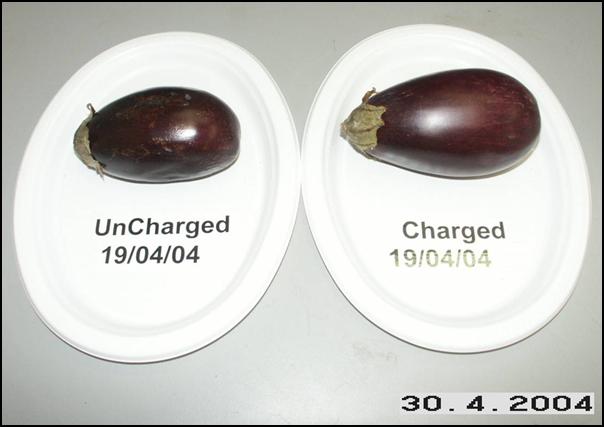 ---
May 4, 2004
The uncharged vegetable has deteriorated further whilst the charged one appears to remain the same
---
May 5, 2004
---
May 6, 2004
---
May 7, 2004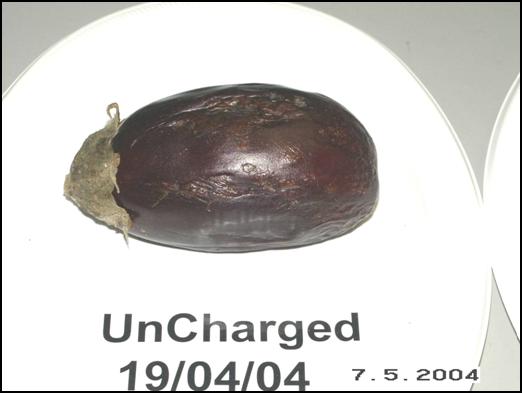 ---
May 11, 2004
The uncharged has deteriorated to the point that fungi have set in and the rate of decomposition
is accelerating. The charge is still edible and is showing no signs of deterioration.
---
May 14, 2004
---
May 17, 2004
The charged eggplant is still firm but is showing slight signs of withering on the surface.
---
May 18, 2004
The QEnergySpa is the latest in home-based systems developed by Q-Tech Laboratories
Use as an aid for relaxation and well-being. It was created to realign, balance, and enhance the bioenergetic levels in the water that are then used by the cells of all living things. The Experience increases vitality, clarity, and an overall sense of well-being. By using the QEnergySpa regularly, you (and your family) can increase your energy levels whenever needed.
Do you need spare parts for your QEnergySpa Foot Spa?
Does your QEnergySpa have a broken or missing part also? Then you have found the right place. First of all, we have all parts to fit ALL BEFE and QEnergySpa models. In addition, the most asked-for parts include replacement rings and tracks, cables, orb parts, orb shells, and orb buttons. We also offer all services including warranty and repair. Q2Spa.com also offers Certified Used Models to meet almost every budget. See all the Q2Spa.com used models, Go here.
Q2Spa.com | Genuine QEnergySpa Parts | QEnergySpa Footbath | Orb Ring and Track Sets
Orbs and Cables | Array Cables | Fuses | QEnergySpa, BEFE Consumables | Support
Lastly, what is new at Q2Spa.com? Check out our Blog, look here.
The statements on this site have not been evaluated by the FDA.
These products are not intended to treat, diagnose, cure, or prevent any disease.