Description
q46 Upgrade
Q2Spa.com | Genuine QEnergySpa, BEFE Models
q46 Upgrade from model 4100, 4105
Above all, The QEnergySpa devices are as visual as the Bio-Electric Field Enhancement unit. Display all QEnergySpa Products online. Start Here. Having the best for you and your family is about being surrounded by all things healthy, natural, and non-toxic. We use the QEnergySpa to enhance our immune system. Our world is overrun with toxins. Nothing feels like a QEnergySpa session. Insist on them. Please contact us with any questions.
q46 Upgrade from Model 4100 or 4105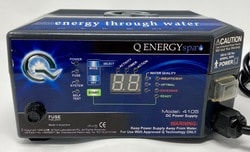 Upgrade now! Do you own a 4100 or 4105 QEnergySpa model? Now you can have it upgraded. Upgrade your QEnergySpa 4100 or 4105 to a q46. Our vision is to bring the life-changing benefits of the QEnergySpa to every home, family, and lifestyle.
Purchase includes…
The Content of the box you will receive is… q46 upgrade from Model 4100 or 4105
Every QEnergySpa BEFE unit has been meticulously crafted in our technical workshops to maintain the highest possible quality.
This we believe is essential to ensure our product efficiency and customers' satisfaction. The QEnergySpa was "created to rebalance and amplify the bio-electric signature of your body", Terry, 1997 (inventor of the QEnergySpa). It does this by imprinting electromagnetic fields into the water, and thereby into living systems, to give the body more energy. This extra energy allows the body to operate at its full potential.
Are you looking for a footbath from QEnergySpa?
Then you have found the right place. Q2Spa.com has sold QEnergySpa Products online since 2002. We invite you to explore our mission and offerings and see how a QEnergySpa BEFE footbath may enhance your life.
 This upgraded warranty is outside the standard product warranty and applies to the upgrade only.
The 90 days warranty on the upgrade does NOT add 90 days to the end of the standard 2 years warranty.
We Sell Only Genuine QEnergySpa and BEFE Models.
Nothing feels and looks like a QEnergySpa. Insist on it. Does your QEnergySpa have a broken or missing part? Then you have found the right place. Please contact us with any questions. Q2Spa.com has sold QEnergySpa Products online since 2002.
We have most items in stock.
The most requested items include ring and track sets, orbs, cables, fuses, and copper tubs. Our story started more than 20 years ago with the original foot bath, the BEFE QEnergySpa. Today, our QEnergySpa Footbaths span the globe. Because of our proven commitment to providing the best, millions trust us to deliver a superior wellness tool, the QEnergySpa.
BEFE: Bio-Electric Field Enhancement
This is a Bio-Electric Field Enhancement, BEFE Technology. Effectively this Bio-Energy Therapy uses water as a medium to enhance the bio-energy at the cellular level increasing your body's overall wellness. Original Technology from Queensland Australia was invented in 1995 and released through the company Q the Experience Australia in 1996. This machine is of the highest quality in anti-aging, faster recovery, and overall health. Discover how to re-energize & re-vitalize your body and feel better than you have for years.
Suggestions to add to your purchase:
1 – Extra Cable, fuses, ring, and track sets
The benefits speak for themselves…
Take your understanding of detoxification to the next level!
Learn from the experts
Over 50 years of combined experience
New upgrades are continually being added
---
Do you need spare parts for your QEnergySpa?
Q2Spa.com | Genuine QEnergySpa Parts | QEnergySpa Footbath
Orb Ring and Track Sets | Orbs and Cables | Array Cables
Fuses | QEnergySpa, BEFE Consumables | Support
Does your QEnergySpa have a broken or missing part also? Then you have found the right place. First of all, we have all parts to fit ALL BEFE and QEnergySpa models. In addition, the most asked-for parts include replacement rings and tracks, cables, orb parts, orb shells, and orb buttons. We also offer all services including warranty and repair. Q2Spa.com also offers Certified Used Models to meet almost every budget. You may see all the Q2Spa.com used models, Go here.
Lastly, what is new at Q2Spa.com? Check out our Blog, look here.
q46 Upgrade  –  Upgrade Your Model 4105
The statements on this site have not been evaluated by the FDA.
These products are not intended to treat, diagnose, cure, or prevent any disease.