Description
Orb Clips- 3 Pack
Q2Spa.com | Genuine QEnergySpa and Parts
Orb Clips | Item #CMClip | Display all QEnergySpa Options. Start Here.
Display all QEnergySpa Options. Start Here. Manufactured in Australia, the QEnergySpa is unlike any technology available on the market today. Owing not only to the science it is based upon (Quantum Reality Field Science, QRFS) but also to the highly specific design details of the Orb (water module). As well as the manufacturer-specific electronic matched circuit components within the three available power supplies. Please contact us with any questions.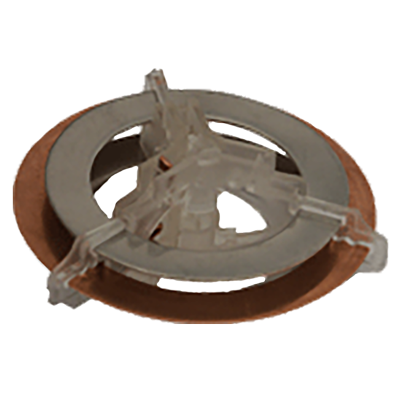 Orb Clips
QEnergySpa, BEFE Replacement Parts – Included: (3)  Center Module Orb Clips | Item # CMClip. The Center Module is pictured on the right. See where they may be installed? The clips may wear or break off after heavy use. Simply replace them and it's like new again!
We Sell Only Genuine QEnergySpa, BEFE Models.
Nothing feels and looks like a QEnergySpa. Insist on it. Does your QEnergySpa have a broken or missing part? Then you have found the right place. Please contact us with any questions. Q2Spa.com has sold QEnergySpa Products online since 2002.
What is the QEnergySpa ionic foot bath?
The QEnergySpa foot bath enhances and amplifies the ability of the body to heal itself. The procedure takes 35 minutes. The session is done in an ordinary bathtub of water or a footbath. It requires no extensive training to perform. Q2 therapy is based on the fact that all living things produce a form of organic electricity or Bio-Charge.
How does the QEnergySpa work?
The Q2 system produces a complex electromagnetic waveform that resonates throughout the water and interacts with it in a way that is synergistic with the bioelectric state of the body. No other product on the market can copy and create this type of bio-charge based on feedback from the individual. Absorption of this bio-charge has been shown to increase the potential voltage in the body's cell membranes, thus helping to maintain cellular function.
The QEnergySpa can possibly be shown to stimulate a release of toxins and foreign material.
This often results in added discoloration of the water as the toxic release occurs. Note that most of the color change in the footbath water is due to the presence of minerals that precipitate out of solution due to the effect of electrolysis from the Q2 metal rings. Read more about the watercolor "mystery" HERE.
Recharge Your Cells
The QEnergySpa works through the medium of water by making available extra energy that living cells can utilize. There are a variety of different cells in the body. They all require water for hydration AND energy to perform at their optimum levels. With the depletion of either water OR energy, the cells are deprived and poor health can result. This is why the QEnergySpa is so beneficial. A footbath session keeps your cells healthy and energized. Users report that regular footbath sessions have improved their health and wellness. And a QEnergySpa footbath session doesn't take a lot of time either, just 35 minutes every second or third day.
---
Do you need spare parts for your QEnergySpa?
Does your QEnergySpa have a broken or missing part also? Then you have found the right place. First of all, we have all parts to fit ALL BEFE and QEnergySpa models. In addition, the most asked for parts include replacement rings and tracks, cables, orb parts, orb shells, and orb buttons. We also offer all services including warranty and repair. Q2Spa.com also offers Certified Used Models to meet almost every budget. You may see all the Q2Spa.com used models, Go here. Lastly, what is new at Q2Spa.com? Check out our Blog, look here.
Q2Spa.com | Genuine QEnergySpa Parts | QEnergySpa Footbath
Orb Ring and Track Sets | Orbs and Cables | Array Cables
Q2Spa| QEnergySpa Parts | Schedule a Session | Veggie Trials | BEFE Parts
Orb Clips | Item # CMClip
The statements on this site have not been evaluated by the FDA.
These products are not intended to treat, diagnose, cure, or prevent any disease.