Description
Copper Foot Tub

We are now taking orders. The delivery time is 3 weeks.
Q2Spa.com | Copper Foot Tub (2 Sizes Large and Small)
Orb Parts | Genuine QEnergySpa BEFE Parts
New QEnergySpa Footbaths and Consumables
Display all QEnergySpa and BEFE Models. Go here.
A Copper tub may increase efficiency by 10% to 30% when used with the QEnergySpa, BEFE.
How: By reflecting/folding the field back upon itself.  (Made to order with a 3-week delivery delay)
This foot tub is solid, untreated, and unvarnished copper.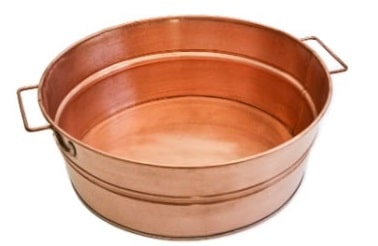 Choose your copper tub. They are solid, untreated, and unvarnished copper. For use with the QEnergySpa, BEFE. Our copper foot tubs fit all foot sizes. Choose a small or large foot tub. The copper foot tub includes handles for easy carrying. Expect to get more life out of your orb due to the conductivity of the copper.  We do suggest some form of lining to prevent the eventual wearing of the copper from the footbath water. A drawstring trash bag can be used.
(Note: lining does not affect the conductivity & there is no leakage of plastic toxins due to the osmosis environment and boiling point is needed to break down plastic components). (Made to order with a 1-week delay)
All copper tubs are hand-tapped.
They are made in the USA. Our tubs are solid, 100% pure copper, with handles for easy carrying. This foot tub is custom-built for a foot bath session. Fits most foot sizes, has a handle for easy carrying, and is deep enough for optimum water level. Please note: This is a HEAVY tub.
Dimensions:
LARGE  Tub: (Diameter: 19″ Circumference x 8″ Deep)
SMALL Tub: (Diameter: 16″ Circumference x 8″ Deep)
Copper Foot bath benefits

Copper is one of the best conductors of electricity. To illustrate, copper is an additional conductor that amplifies energy and frequency. Copper is a natural antibacterial metal. You may improve your foot bath experience using our unique Foot Tub.  When soaking your feet in the tub, it just feels wonderful and luxurious.
FYI: I have used my copper tub with my Q Energy Spa BEFE for over 20 years. It just feels great! Try using a copper tub instead of plastic today! – Debbie Allen
---
FAQs:
(1) Do I need a copper tub?
A copper tub is recommended. You may also use your bathtub or buy a plastic foot tub (A dish tub works well).  However, as noted above;  the copper tub increases conductivity.
(2) Is the copper tub easy to clean?
Yes. Since the copper tub is 100%, pure copper. Use hot soapy water.
(3) Do I need a plastic lining for the copper foot tub?
Yes and No. YES: If this is used in your clinic,  always use a plastic liner and throw it away.
NO: If this is just you and your family, use soap and water to clean after every use.
Do you need spare parts for your QEnergySpa?
Q2Spa.com | Genuine QEnergySpa Parts | QEnergySpa Footbath
Orb Ring and Track Sets | Orbs and Cables | Array Cables
Fuses | QEnergySpa, BEFE Consumables | Support
Does your QEnergySpa have a broken or missing part? Then you have found the right place. First of all, we have all the parts to fit ALL BEFE and QEnergySpa models. In addition, the most asked-for parts include replacement rings and tracks, cables, orb parts, orb shells, and orb buttons. We also offer all services including warranty and repair. Q2Spa.com offers models to meet almost every budget. You may see all the Q2Spa.com used models, Go here.
What's new at Q2Spa.com? Look here.
The statements on this site have not been evaluated by the FDA.  These products are not intended to treat, diagnose, cure, or prevent any disease.