Description
Used Model 4105 QEnergySpa
Certified Used QEnergySpa | Used Model 4105 QEnergySpa
This Q2-Energy Spa Certified Used Model 4105 includes a NEW Cable, used orb, and case with a 1-year warranty. The Certified Used Model 4105 series uses a single PCB  to manage the output for both the Orb and power supply. We are here to help. Questions? Please contact us anytime.
Used Model 4105 Technical Details

Transformer-based power supply
Upgradable Hardware Options
Optimal level selection
Automated system diagnostics
Built-in self-protection & safety cut-out
Built-in timer
Superior Bio-Energetic Field Enhancement
Improved electrical signal clarity
Built to International Electrical Safety Standards
All Ready to Go
Technical Details – Circa 2003
The most unique feature of the Used Model 4105 series include self-protection and self-diagnostics, a numerical action-coded display, and a built-in timer that will disconnect power to the Orb when the session time is complete, for your safety and convenience. This model produces a much cleaner source of power and provides ease of use through self-adjustments according to the water conditions, automatically selecting the correct energy output for your water conditions which delivers significantly improved, unparalleled Bio-Energetic Field Enhancement within the water. This model has been superseded by the q46, q47, and now available q6000.
Purchase includes…
The Used Model 4105 Contents of this box includes:
QEnergySpa, BEFE Used 4105 Power Supply
One New Cable
One Used Orb (Water Module)
One Used  Carry Bag/Case
1 -Year Warranty
Ships from Denver
Actual images of this Used Model 4105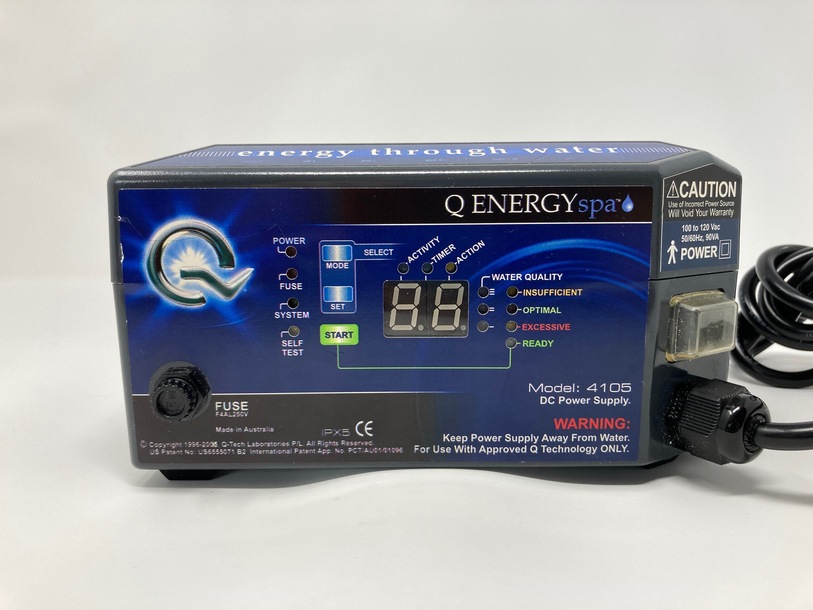 Maybe add to your purchase?
1 – Extra Cable, fuses, ring, and track sets
Benefits you can feel… needs no words.
Bring living to the next level!
Learn from the experts, right now
Over 50 years of helping you help yourself
New up-grades to maintain your Power Supply
We Sell Only Genuine QEnergySpa, BEFE Models.
Nothing feels and looks like a QEnergySpa. Insist on it. Does your QEnergySpa have a broken or missing part? Then you have found the right place. Please contact us with any questions. Q2Spa.com has sold QEnergySpa Products online since 2002.
We have most items in stock.
The most requested items include ring and track sets, orbs, cables, fuses, and copper tubs. Our story started more than 20 years ago with the original foot bath, the BEFE QEnergySpa. Today, our QEnergySpa Footbaths span the globe. Because of our proven commitment to providing the best, millions trust us to deliver a superior wellness tool, the QEnergySpa.
BEFE: Bio-Electric Field Enhancement
This is a Bio-Electric Field Enhancement, BEFE Technology. Effectively this Bio-Energy Therapy uses water as a medium to enhance the bio-energy at the cellular level increasing your body's overall wellness. Original Technology from Queensland Australia was invented in 1995 and released through the company Q the Experience Australia in 1996. This machine is of the highest quality in anti-aging, faster recovery, and overall health. Discover how to re-energize & re-vitalize your body and feel better than you have for years.
---
Q2Spa.com Online Since 2002
Does your Q- Spa also have a broken part? Maybe you need to have your power supply serviced.  Then you have found the right place. First of all, we have hundreds of parts to fit ALL BEFE and Q-Tech Spa models. The most asked-for parts include rings, tracks, switches, cables, orb parts, cases, and top or bottom orb shells. Plus fuses, fans, and much more. We also offer repairs, parts, and service on units both in and out of warranty. Q2Spa.com also offers Used Models to meet almost every budget. You may see all the Q2Spa.com used models, Go here.
Lastly, health, renewed vigor, and more… "just a spa away"
No statements on this site have not been approved by the FDA.
Also, this product is not made to treat, cure, or prevent any disease.
Used Model 4105