Description
Foot Tub Liners (50 each)
Q2Spa.com| Foot Tub Liners | Item #Liner50
Genuine QEnergySpa Parts | Genuine QEnergySpa BEFE Parts
New and Used QEnergySpa Footbaths and Consumables. As the world leader in footbaths, we believe everyone deserves a life full of wellness and abundance. Our vision is to bring the life-changing benefits of the QEnergySpa to every home, family, and lifestyle. Are you looking for a footbath from QEnergySpa? Then you have found the right place. Q2Spa.com has sold QEnergySpa Products online since 2002. We invite you to explore our mission and offerings and see how a QEnergySpa BEFE footbath may enhance your life.
Using disposable Foot Tub Liners provide a quick and sanitary solution.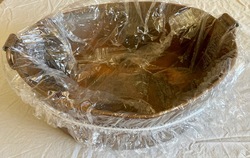 Foot tub liners reduce time on messy cleanups, as well as enhance the overall look of the session. They can be used with the QEnergySpa and BEFE foot bath. Our convenient liner features an elastic band that secures to the tub and provides flexibility to fit most shapes and sizes. The liners are clear plastic so that you can easily see the fill line when adding water to your foot tub.
Foot Tub Liners Dimensions:
Approximately 22 round x 9 deep
Please note: A small amount of leakage may occur.
However, even with some leakage, the liners help protect your tub from stains.
It's best to dump the water with liner on the tub, then dispose of the liner.
We have most items in stock.
The most requested items include ring and track sets, orbs, cables, fuses, and copper tubs. Our story started more than 20 years ago with the original foot bath, the BEFE QEnergySpa. Today, our QEnergySpa Footbaths span the globe. Because of our proven commitment to providing the best, millions trust us to deliver a superior wellness tool, the QEnergySpa.
We Sell Only Genuine QEnergySpa, BEFE Models.
Nothing feels and looks like a QEnergySpa. Insist on it. Does your QEnergySpa have a broken or missing part? Then you have found the right place. Please contact us with any questions. Q2Spa.com has sold QEnergySpa Products online since 2002.
Benefits speak for themselves…
Take your understanding of detoxification to the next level!
Learn from the experts
Over 50 years of combined experience
Access the information from any computer with an internet connection
Do you need spare parts for your QEnergySpa?
Q2Spa.com | Genuine QEnergySpa Parts | QEnergySpa Footbath
Orb Ring and Track Sets | Orbs and Cables | Array Cables
Fuses | QEnergySpa, BEFE Consumables | Support
Does your QEnergySpa have a broken or missing part also? Then you have found the right place. First of all, we have all parts to fit ALL BEFE and QEnergySpa models. In addition, the most asked for parts include replacement rings and tracks, cables, orb parts, orb shells, and orb buttons. We also offer all services including warranty and repair. Q2Spa.com also offers Certified Used Models to meet almost every budget. You may see all the Q2Spa.com used models, Go here.
Lastly, what is new at Q2Spa.com? Check out our Blog, look here.
Q2Spa| QEnergySpa Parts | Schedule a Session | Veggie Trials | BEFE Parts
The statements on this site have not been evaluated by the FDA.
These products are not intended to treat, diagnose, cure, or prevent any disease.