How to Q: General Operation of the QEnergySpa System
The Q Energy Spa System is very simple to use. Everything that you require is supplied with your "Q Energy Spa System kit". The Q Energy Spa System ORB has been specifically designed to be used in water. It is vitally important that you read the booklet accompanying the System very carefully before operating.
We have manuals for each machine available for purchase
Q2 FAQ – (Frequently Asked Questions View
Troubleshooting Guide for Models #4100, #4105View
ORB Ring & Track Change Guide: View
"Old" ARRAY Ring & Track Change Guide: CLICK HERE

Additional Natural Wellness Information:


Quantum Field Science: CLICK HERE

Detoxification of the Body: CLICK HERE
IMPORTANT NOTICE to all QEnergy Spa users:
To test the conductivity of your water if your unit indicates insufficient conductivity.

The maximum amount of salt or Potassium Citrate you will need to add is One heaped teaspoon to 200 milliliters or in US measurements 1/3 of a pint of hot water and add that to 9 liters or 2 gallons of water. This will raise the conductivity more than enough for the Q2 Energy Spa to work.

Conductivity Guideline

Should your Q2 system still indicate that there is insufficient conductivity to operate it is not conductivity but most likely poor connections in the Mohawk that are the problem. Adding any more than this amount will only damage the contacts in the Mohawk connector on the q36/3100 and q47/4105 model, and will degrade your positive ring and track sets far more quickly than normal. All of which are not covered under warranty. Should you still experience issues with insufficient conductivity please contact the nearest offices of Q The Experience for detailed assistance.
 Recommended usage Times
The usage times with this System are important. It is recommended 35 minutes be spent in the water with this system for each session. This time period is a maximum for all organisms, however, some organisms may require less time and this can vary from organism to organism and condition to condition. The recommended usage time is based on one complete cycle of water, which is 17 minutes. To ensure beneficial results, we recommend two cycles of water, hence 35 minutes. The System should be used every second day (and only every second day) for a period of 1 month. After that, usage of the system is only as often as feels necessary, but never more than every second day.
Using the Q Energy Spa System for the first few times can cause a number of effects that may be noticed and observed during and briefly after usage. These effects vary between organisms and may appear at any point during the usage times. The following is a list of sensations that may be experienced.
Tingling sensations in various parts of an organism
Tingling in scratches, cuts, and abrasions.
Shortness of breath towards the end of usage.
A slight pain where possibly the organism is unhealthy.
A tightening sensation in affected areas.
These effects generally last only a few minutes after usage, however, if the body mass should show any signs of distress, the process/session should be terminated immediately and following sessions should not go any longer than that time frame for a period of 14 sessions.
Who should not use the Q Energy Spa System?
There are however a few organisms that cannot use the Q Energy Spa System for various reasons.

A body mass that has battery operated implants (example: Pacemakers)
Any Body mass that has received an organ transplant.
A pregnant Body Mass.
Warning: Remember to leave the power supply a safe distance away from the water.
Preparing the Bath

 There are many varieties of tubs to use.
– Copper Tub (available HERE)
– Plastic Tub (Any size to hold water for your feet)
– Bath Tub ahhhh for the whole body ahhhh…
Note: A dishpan-sized container will fit most feet plus the array and is still light enough to empty easily. Plastic is my preference (due to weight). Glass and copper are also fine containers. We have new copper tubs available for purchase. CLICK HERE to buy a Copper Tub.

Water:
 Does the type of water you use really matter?
Yes and No. I usually use tap water in my bath … it's the easiest because there is no need to buy water, lug water or use salt or potassium citrate. I personally do not notice a difference in potency between tap water and distilled, but waters vary a lot from one location to another.
I do, however, like to use distilled water and potassium citrate when doing a demonstration.
Since the distilled water has no mineral content .. and potassium citrate is very simple, little or no discoloration occurs. I really don't want to make a fuss over the colors or stuff in the water. It's mostly interactions of the water content and the fields. Instead, focus on what is happening inside your body or the body of your client. It's subtle. If you feel nothing … relax deeper and see if you can sense the subtle flows of energy. Focus within. Breathe. Relax. Let go of all stress. Let go of all holding on. If something remarkable happens in the water, be amazed. Don't try to explain it. There is a lot happening in the water even if you don't notice anything! And a lot more is happening in your body.
Cleaning Your Q2
CLR

Following each Q session, rinse your array under running water. I like to clean the Q in the following cleaning solution below, about every 3rd use. Cleaning it often can extend the life of the array.
Solutions:
CLR (can be bought at any drugstore) Mix 50% CLR and 50% water. If stored in lidded plastic containers your cleaning mixture may be reused for months.
 Descale Magic

100% Organic, citrus-based, environmentally friendly, non-hazardous, biodegradable solution, when mixed with water. It is also septic and grey water safe.  In a seal-able container big enough to fit an orb or array, place the 40g sachet and fill with water (about 1.5 liters). Be sure to add enough water to cover the entire orb/array and stir the mixture till the powder is dissolved. Soak the orb/array for 5-10 minutes after every session; to ensure maximum efficiency. CLICK HERE to purchase DeScale Magic.
Charging Drinking Water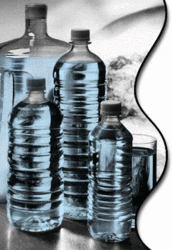 Using drinking water charged in the Q2 is highly beneficial and is easily done by placing filled glass bottles in a basin of water with the orb, switching on the unit, and running it for the period of a session. Only 8 ounces per day should be consumed and it is important to drink it within a short space of time, not spread it over the day since the charge it supplies to the body should be allowed to subside before the next amount is taken. The water will hold the charge for a maximum of 90 hours.
Do you need spare parts for your QEnergySpa?
Q2Spa.com | Genuine QEnergySpa Parts | QEnergySpa Footbath
Orb Ring and Track Sets | Orbs and Cables | Array Cables
Fuses | QEnergySpa, BEFE Consumables | Support
Does your QEnergySpa have a broken or missing part also? Then you have found the right place. First of all, we have all parts to fit ALL BEFE and QEnergySpa models. In addition, the most asked for parts include replacement rings and tracks, cables, orb parts, orb shells, and orb buttons. We also offer all services including warranty and repair. Q2Spa.com also offers Certified Used Models to meet almost every budget. You may see all the Q2Spa.com used models, Go here.
Lastly, what is new at Q2Spa.com? Check out our Blog, look here.
Q2Spa| QEnergySpa Parts | Schedule a Session | Veggie Trials | BEFE Parts
The statements on this site have not been evaluated by the FDA.
These products are not intended to treat, diagnose, cure, or prevent any disease.