Description
ORB Ring and Track 50 Pack
Q2Spa.com | Genuine QEnergySpa and Parts
ORB Ring and Track 50 Pack | Item #50RT
Display all QEnergySpa Options.  Start Here. Manufactured in Australia, the QEnergySpa is unlike any technology available on the market today. Owing not only to the science it is based upon (Quantum Reality Field Science, QRFS) but also to the highly specific design details of the Orb (water module). As well as the manufacturer-specific electronic matched circuit components within the three available power supplies.  Please contact us with any questions.
ORB Ring and Track 50 Pack
This 50-pack set fits the Orb. The orb fits all of the BEFE QEnergySpa Models, along with the proper cable.
Included: 50 Sets (100 Rings and 50 tracks)
Item # 50RT
Each set of plates will last anywhere between 8 to 100 sessions depending on your ORB model and your water quality. Stock up with plenty! Are you not sure about what you need to keep your Orb, cable, or Q Machine running? No problem! We have all the parts you need for your BEFE Q Energy Spa on our PARTS page here.
Orb Ring and Track Maintenance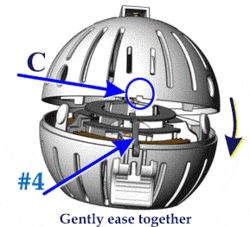 Replace the Rings and Track when visibly pitted and or worn. How do you know when is the best time to replace them? CLICK HERE to see an example of when is the best time to replace.  We can help you set up your QEnergySpa almost every day. Nothing works better and performs like the Original QEnergySpa. For that reason, insist on it ONLY.  See all of our QEnergySpa products. Go here.
Video instruction for orb assembly after changing the rings and track. Watch here
---
We have QEnergySpa Parts in stock.
Solid, untreated, unvarnished copper tubs – which have the potential 10% to 30% increase in efficiency!
The most asked for parts include cables, fuses, orbs, and ring and track sets.
Even more, see our newest QEnergySpa Pro q6000 online, Go here.
_______________________________
Do you need spare parts for your QEnergySpa?
Q2Spa.com | Genuine QEnergySpa Parts | QEnergySpa Footbath
Orb Ring and Track Sets | Orbs and Cables | Array Cables
Fuses | QEnergySpa, BEFE Consumables | Support
Does your QEnergySpa have a broken or missing part also? Then you have found the right place. First of all, we have all parts to fit ALL BEFE and QEnergySpa models. In addition, the most asked for parts include replacement rings and tracks, cables, orb parts, orb shells, and orb buttons. We also offer all services including warranty and repair. Q2Spa.com also offers Certified Used Models to meet almost every budget. You may see all the Q2Spa.com used models, Go here.
Lastly, what is new at Q2Spa.com? Check out our Blog, look here.
Schedule a Session | Veggie Trials | BEFE Parts
The statements on this site have not been evaluated by the FDA.
These products are not intended to treat, diagnose, cure, or prevent any disease.