Description
ORB Ring and Track 50 Pack
ORB Ring and Track 50 Pack
This 50-pack set fits the Orb. The orb fits all of the BEFE QEnergySpa Models, along with the proper cable.
Included: 50 Sets (100 Rings and 50 tracks)
Item # 50RT
Each set of plates will last anywhere between 8 to 100 sessions depending on your ORB model and your water quality. Stock up with plenty! Are you not sure about what you need to keep your Orb, cable, or Q Machine running? No problem! We have all the parts you need for your BEFE Q Energy Spa on our PARTS page here.
Orb Ring and Track Maintenance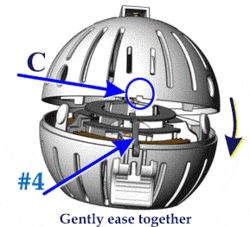 Replace the Rings and Track when visibly pitted and or worn. How do you know when is the best time to replace them? CLICK HERE to see an example of when is the best time to replace.  We can help you set up your QEnergySpa almost every day. Nothing works better and performs like the Original QEnergySpa. For that reason, insist on it ONLY.
See all of our QEnergySpa products. Go here.
---
We have QEnergySpa Parts in stock.
Solid, untreated, unvarnished copper tubs – which has the potential 10% to 30% increase in efficiency!
The most asked for parts include cables, fuses, orbs, and ring and track sets.
Even more, see our newest QEnergySpa Pro q6000 online, Go here.